Am I eligible for acceptance into Lonsdale Education Center's CAP course?
Our normal criteria is that of the NCNZs criteria. However, at present we have closed applications on the website due to overwhelming demand. We will be opening up an application enquiry form soon, this is not our formal application nor guarantees a place on our CAP but allows us an ability for LEC to review individual candidates and potentially offer a space if/when we have capacity open up.  
Our entry criteria is as follows:
Hold a current letter from the Nursing Council of NZ advising you to apply for a CAP 
Have worked for two+ years as an RN
Meet the NCNZ language criteria
Can provide a complete CV with any gaps in your history readily explained
N.B. See note in above FAQ.
How do I apply? and what are the timeframes?
When our applications are open on the website you can apply directly by selecting the appropriate course such as (NZSNT) then you will need to complete the "online registration" form and provide all the requested documents. Once we have received your application we will respond to you within 14 working days. Please do not contact us until 14 working days has passed. Once approved you will be notified, provided a username and password in order to purchase the course. Once payment has been processed (this takes up to 3 working days you will be given access to the online learning modules.
N.B. Currently applications are closed on the website, you can use our enquiry form when this is live to provide evidence of your practice. If you don't hear from us within 30 days you were not successful. 
Why have I not received a response?
Once we have received your application it will take up to 14 working days for us to respond to you. Please do not contact us until 14 working days has passed as this ties up our admin team from processing your application.
How do I know the dates for your courses?
As we are fully virtual there are no co-horts. This means the date for your course is variable depending on a number of factors. Your learning is now more flexible to help you keep working and navigate the difficulties of gaining visas and travelling to New Zealand. Please bear the following in mind:
The NZNST modules are made available once your application has been approved by LEC and payment has been received. You will have 12 weeks to complete part 1. There is an MCQ (CBT) exam at the end, once you have passed this you will be given permission to purchase the second part (NZNP).
You have 6 months to complete both parts of your CAP including your clinical placement in New Zealand.
How much will I pay for my course?
There are 2 parts to our CAP
NZ specific nursing theory
NZ nursing practice
Each of these sections have a cost associated with them and is paid upon enrolment in each course. The costs are as advertised and can be found on the website.
How long is LEC's CAP course?
Part 1: Up to 4 weeks to complete
Part 2: Standard 4 weeks clinical placement this can be extended up to 6 weeks should a CAP candidate have issues or be struggling during clinical placement. 
Candidates have a total of 6 months to complete their CAP in it's entirety (Part 1 and Part 2). 
What do I do if my NCNZ is due to expire?
You need to contact the NCNZ directly and discuss/ask for an extension on your letter this is normally a smooth process and one you need to discuss with them not us. We will not be able to run your course if you do not have a current letter. We will not monitor the expiration of your letter, this is up to you. 
Do I need an agent to apply?
In the short answer no! however, due to overwhelming demand we have had to consolidate how applications are coming into our CAP at present. This might change again later in 2023 but at the moment we are working with some very select agencies to ensure we are able to manage numbers and have some consistency around the calibre of nurses doing our CAP.
We will be opening up an enquiry form for a small number of CAP candidates wanting to apply independently, not all will get a space on our CAP as we are experiencing high demand at present. However, we will review and take a small number of applications from independent candidates if they met our selection process.
Do you have agents that you recommend?
There are a very small number of preferred agencies that we accept applications from, however we do not have formal agreements with any of them. Therefore we wont advertise or recommend any specific agency/s at all. It is up to you, the CAP candidate and what you need/want want to get out of the agency itself. You need to feel comfortable with what they are offering and we recommend that you seek a full disclosure of costs etc and make sure that there are no fish hooks or loop holes that have you trapped.  
When do I need to let you know about my travelling arrangements to New Zealand?
You need to email admin@lec.ac.nz as soon as you have your visa to discuss arrival dates and to ensure we are able to put you into a clinical placement within your preferred timeframes.
What happens if I don't get to New Zealand in time to do my Practice Demonstration?
You have 6 months to complete your full CAP. If you don't arrive and finish in that time period you will not pass your course and will be automatically dis-enrolled. If you think there will be a problem with this you need to notify us and explain the situation. We may in exceptional circumstances choose to extend your course. You remain responsible for notifying us about matters such as this. 
When do I apply for an International Criminal History Check (ICHC)?
Please read the CAP letter you received from the NCNZ for further details. Don't wait until you finish your CAP course as this will hold up the release of your practicing certificate which can affect job applications. Click here and you will directly be taken to the online form. You can apply for this through the Nursing Council of New Zealand website.
Do I need to complete a New Zealand police vetting check?
Please see the Nursing Council website for further details as this is their process.
If you have been living in NZ for a period of time prior to doing your CAP then it is highly likely you will need a NZ police vetting check. Please check with them directly as this can hold up your NCNZ registration from them and has nothing to do with LEC process.  
Do I need to my two COVID-19 vaccinations, plus a booster dose before I come to New Zealand?
Yes you do currently. We will ask you to provide evidence of this. You can still get boosters for free for health care workers in NZ if you have not had a booster as per NZ standards for health care workers. 
Do I need to provide any other medical information?
Yes you do. Clinical placements are now requiring that you are able to show evidence of various standard pre-employment blood levels. These include the following: 
Hepatitis B immunity or carriage*- proof of antibody level ≥20 U/L

Varicella immunity- a clear history of chicken pox or antibody positive

Measles immunity- proof of 2 MMR vaccinations or antibody positive

Pertussis immunity- proof of vaccination in the past 5 years if likely to work with children under 12 months of age. NOTE advice may change according to cyclical outbreaks.

We also need evidence of having had a recent Chest x-ray for TB or a QuantiFERON Gold blood test.
We recommend you contact us for further information. 
Do I need to have medical and travel insurance?
Yes, it is important that you come prepared with both medical and travel insurance. We do not provide you with these.
Do I have access to medical help/prescriptions if I become unwell?
Yes, please contact your insurer for advice initially. You may be able to make an non-urgent appointment with GP services or an urgent care centre. It is unlikely it will be on the same day and you will need to transport yourself there and back and pay for any prescriptions and medical treatment in full before you leave the practice. This service will be available during working hours. If you live in Palmerston North and need emergency services you can attend The Palms Medical Centre in Palmerston North or the emergency department at Palmerston North DHB. All of these services will have substantial fees. If you have a medical emergency you can call an ambulance, on 111.
We suggest you bring a large supply of any routine or PRN medications you use seeing a doctor obtaining your medications you customary take, may be more complicated than you may anticipate and will attract fees.
How do I arrange a bank account?
This is your responsibility entirely! We recommend you seek advice from the bank you choose before applying, and you must apply before you arrive in New Zealand in order to meet bank and visa requirements. Most banks will require that you prove where you are living and we suggest you bear this in mind because we cannot provide you with any document that does this. The other alternative to this is that you live with your family or friends and they support you (by giving you evidence that you live at their address) until you move into your own property. We suggest that you bring enough cash to survive on until you gain employment or you pre load an international money card with currency to use before you take up a permanent living arrangement.
If you do bring currency other than NZD please change it at Auckland airport as many of the regional airports and business districts do not have currency conversion available.
What do I do if I have a question about my visa application?
There have been major changes to visa applications due to COVID-19. These changes are beyond our control. We recommend you regularly check the Immigration website for updates and information.
How do I navigate Immigration so my visa is not delayed and if it is what do I do?
It is important that you apply for your visa with plenty of time. It would pay to allow for the maximum processing time so that you are not stressed about arriving in time to complete your testing.
However, there are times where your visa might be held up due to matters beyond your control. We can, in these circumstances, contact Immigration NZ on your behalf to see which stage your application is at. In order for us to discuss your case with your immigration officer you must complete an INZ 1224 form. No discussion will be allowed until this form has been uploaded.
Where is the testing centre?
Our testing Centre is based in the Horowhenua, If you are a CAP candidate coming to do testing then please contact admin for our physical address. 
Do I need to wear a nurse uniform for my OSCE assessment?
Yes this is required, as you would have purchased/made this prior to arriving in NZ.
What uniform do I need for my clinical placement?
You will need to purchase 2 uniform tunics in your own country. We suggest you have them made or purchase them well before you come to NZ. You cannot rely on purchasing them when you get here and your placement will be held up if you do not have a uniform. The uniform tunic must be electric blue and a similar style to those in the poster below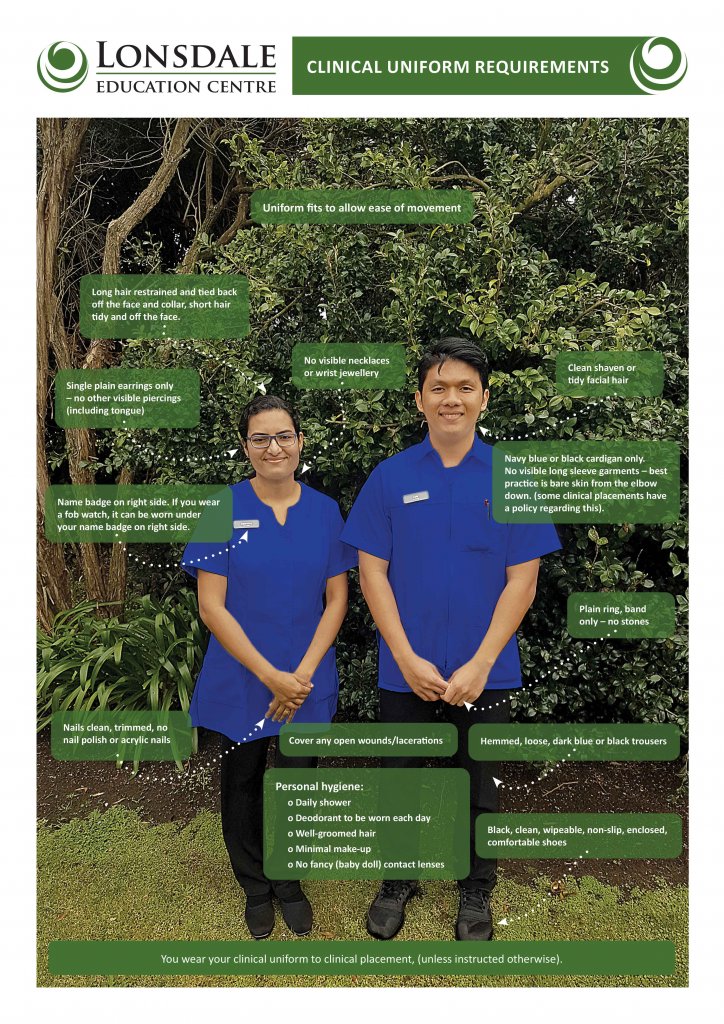 What do I do if I test positive for COVID-19 or become a household contact?
Inform admin@lec.ac.nz immediately. ​Follow the instructions given to you. We will adjust your OSCE and/or placement to best suit everyone's needs. Be reassured you will not be discriminated against by us. We expect to support you through your course, assuming you have followed all the requirements.